Hellgate: London is composed of different types of quests. These quests are held within five acts.
Currently the only showing of going to the next act is a (rather disappointing) message stating you have completed your current act. This is usually after having returned home, so not even a epic bossfight win rush will accompany it.
Primary Quest - Storyline based and will help advance the story behind HG:L
Task Quest - A generic quest used for various purposes. Often not needed to continue to a next area, these quests often give skillpoints, so are really worth doing.
Chance Quest - A quest that exists in a specific random instance. These quests are rare and are found purely by luck.

Quest I.3: Travel to Holborn Station
No Quests are official yet
No Quests are official yet
No Quests are official yet
No Quests are official yet
No Quests are official yet
Mini-Game
Edit
Objective
Edit
The Mini-game is always present for your character. It consists of 3 randomly generated symbols with a randomly generated amount. To "win" you must fill in each symbol.
Filling in a symbol requires you deal the proper damage to an enemy, killing them with said damage, x times until you reach 0 . The minigame icon will then glow.
Upon filling all 3 icons, the kill in which you triggered the win will rain down tons of loot. **Drops appear isolated from the enemy type**
Types of Icons
Edit
These icons show up for the minigame: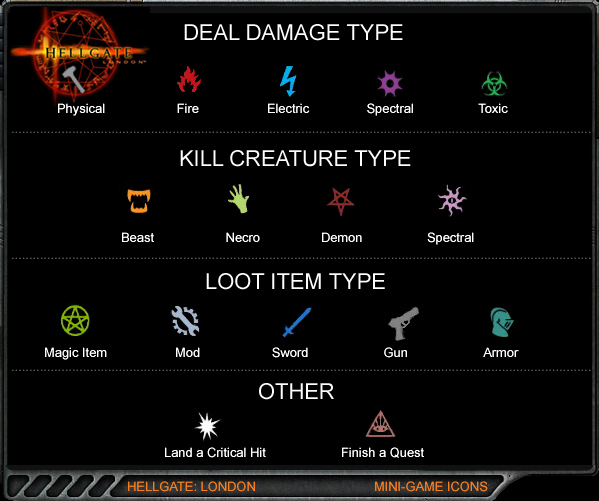 The damage dealt will only count down once a monster hit by that damage has been killed.
Fire damage includes damage from exploding barrels and gas containers.
Magic items are items of green or higher Quality.
The Finish a Quest option should not spawn at max level.