Palladium
Edit
Palladium is the current name for Currency in Hellgate: London. It is also the name of an Element on the periodic table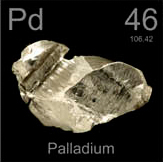 and is, by analogy, anything believed to provide protection or safety; a safeguard. It is thought that Palladium is a good weapon against the Demons of Hellgate: London as breaking down any Weapon, Shield, or Armor will yield some thus proving that it was used in construction.
How To Obtain
Edit
Enemies will drop Palladium
Selling items to the merchant or to other players in multiplayer
Quest rewards often include palladium
Dismantling a low-level item sometimes awards Palladium.
Where To Spend
Edit
Purchasing items from the merchant or from players in multiplayer
Augmentrex 3000 - used to add special properties to an item in exchange for palladium
Delux De-Modificator - used to remove mods from an item in exchange for palladium